Colonet, Mexico Wide Open
By Chris Fierro
My friend Jeff and I arrived in Colonet at about 5:30PM and set up the house. W we made dinner as we waited for other friends who would be arriving at all hours all weekend long.
On Friday morning, I paddled out with my three surfer friends. I made it through the surf, which were three to five feet (face) sets, unscathed. I paddled out just beyond the surf where I wouldn't be crushed by the surf, which was breaking nicely left and right. There were small boils everywhere. On the first cast, not to mention every cast there after, with any lure I used, I caught a perfect 9"-12" green back mackerel. So I grab my Diawa Sea Line reel which had #20 lb test, and discover that from months of neglect that the salt water had destroyed the bearing inside. I was down to my medium action #12 line sabiki rod, which through the same neglect, was not reeling smoothly, and the anti-reverse was not working. I was thinking great I drove 145 miles down baja, now this… So I take my Saber pro lite rod with squider reel and #15 pound test, and put about an 11" green back on a 3/0 circle hook. I troll around outside the surf zone for nada, but I was really just on a scouting mission, as I was alone in Mexican waters, and the surfers were now pretty far away. There was no rescue team near, so I thought it would be smart to just mess around until my friend Trever aka RasTrev came down the next day with his Yak to fish, then we could make our way to the point. I stopped, and watched my friends catch waves, and a dolphin playing in the surf, enjoying nature, when all of the sudden something picked up my green back, and the clicker on the Squider goes ZZZZZZZZZZZZZZZZZZZZZZZZZZZZZZZZZZZZZZZZZZ! I pick up my rod, and my yak immediately spins around and rights towards where the fish was headed, directly out to sea. My clicker keeps going out faster than I have ever seen. I am waiting patiently, and finally out of nervousness, decided to put the reel into gear, and set the hook, but before that happens the line shoots back at me and goes slack. I reel in my line and my hook was gone, and I see something big and dark jump in the distance right where my yak was being pulled. I think it was a thresher from what jumped and because my line was cut off at the hook, while the clicker was going out. I decide to go in.
That evening I reflect on what was on my line, and could not wait to get back on the water with another fisherman, so we can go out farther, and fish longer. I am down to my Saber rod with 15# line, and to make matters worse an eyelet from my spinning rod pops out. Everything was just falling apart on me, but I had to make the best of it, and laugh. I have been mostly surf fishing in Colonet for about 13 years, and down there is a man by the name of Tom. We dubbed him the Old Man and the Sea. He is a retired American who 75 years old, and very knowledgeable about the fishing in Colonet. So we were talking about my predicament and he very generously leant me a Penn Jig Master with #30, which I mounted on my heavy Flip and Stick, that had the Diawa Sealine Malfunction reel. I was set!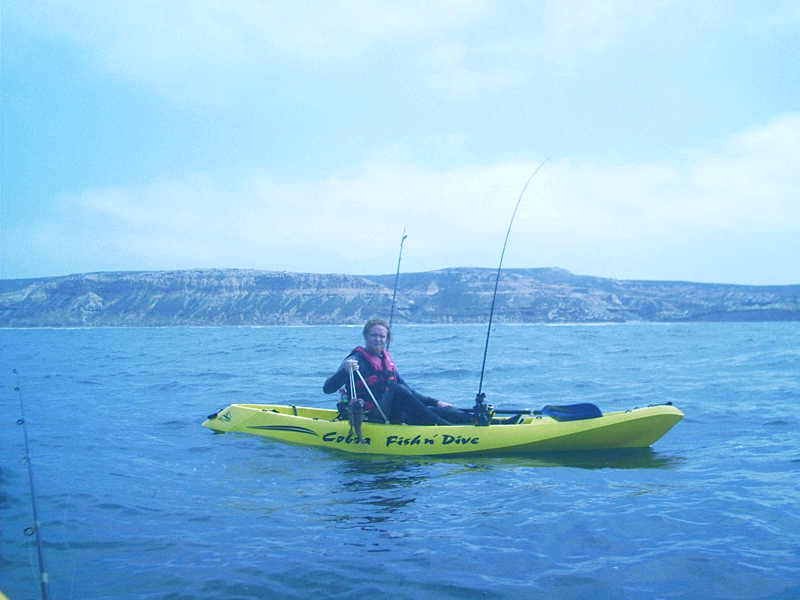 On Saturday morning, my friend Rastrev and I decided to launch at the crepuscular light and head towards the point.

I loaded up my kayak with all kinds of equipment, and an ice chest.

The surf was bigger, and relentless this morning.

I stood in the water looking for my break.

There it was, a lull, I jumped onto my Kayak, and start paddling like mad, when a big set comes in I barely make it over a nice wave, I think I am going to make it, but my boat is super slow, because of all the provisions, and gear.

A wave starts to peak, then peel, and that feeling of Holy S***, enters my reality that I am going to get crushed, and I do.

I come up out of the water to see my boat over turned, and getting pushed to shore, I am in deep water doggy paddling, I also see my crate which was secured with zipper ties floating away with my small cooler bag, not to mention, my paddle, and gaff were also floating away.

Waves continue to pummel me, and I grab my boat turn it over to see that my vintage Kunnan heavy flip and stick is a casualty, snapped just below the first eye.

I grab my crate heavy with my cooler back, while doggy paddling in deep water, and some how place it back into my back well, then my paddle, I swim towards it, and grab it, while being smashed by another wave.

A wave drags the kayak with me holding onto it, and I am starting to get very fatigued.

Then I am crushed by more waves until I reach my gaff.

At this point, I am trying to make the decision to fish, I am thinking that I got jacked up, my heavy rod is broken, the eyelets on my Saber rod got smashed forward, the reel on my sabiki rod is worthless, and the rod itself is falling apart, then I thought of the ZZZZZZZZZZZZ on my clicker yesterday, and somehow get back on my kayak, got hit by white water, and paddled like a mad man.

I get out to Trever, who made it out fine.

I tell him I need to rest.

I assess the damage.

One broken Flip and stick, crate loose, spinning reel worthless, spinning rod damaged, Saber Pro lite eyelets bent but usable, and hull full of water.

Oh, and a damaged ego.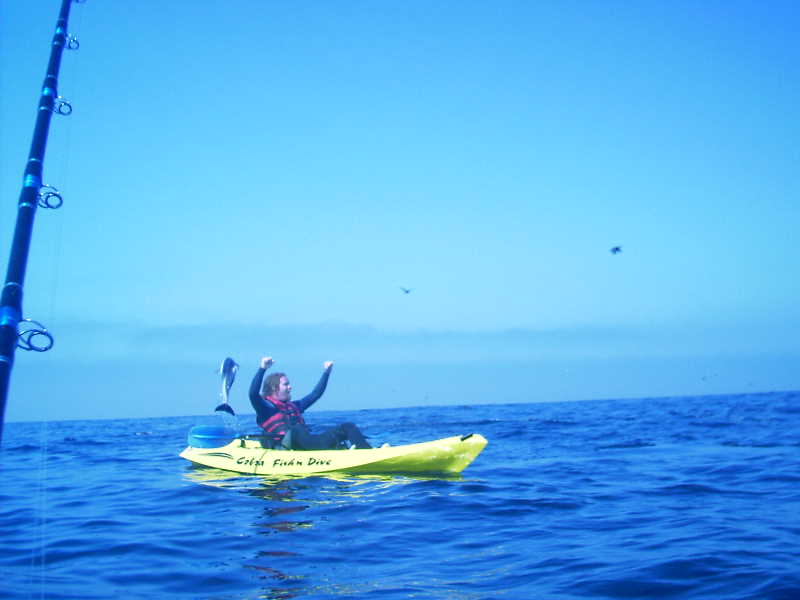 With no other choice, I decided to put the Jig master on my spinning rod. Once again there are ubiquitous green backs hitting every lure under the sun. We both put a GB on a 3/0 circle hook, and paddle south towards the point, and kelp beds, that the Old Man and the Sea told us about. We had nada when my clicker goes ZZZZZZZZZZZZZZZZZZZZZZ! I pick up my reel, and once more my boat rights towards where the fish was pulling I wait, the thumb the spool, and set the hook FISH ON!!!! I am being pulled, while 15# line is being ripped out, when once more slack loose, but this time I get my hook back. I guess I need a seminar in setting the hook! But none the less, we were now pumped for fish! We were about a mile out, and couldn't make bait, so I trolled a broken back Rebel Fast Track gold body, black top, Trever a newbie to kayak fishing lost his mackerel at some point trolled a Rapala CD 14 Blue Mackerel. After about 50 feet, my clicker goes off again, and I land about a 3lb. Calico, 50 ft. more another 5lb, 50 feet more another 4lb. We get about to the point and every drop of a fish trap or scampy off the bottom either produced a rock fish, or at least a bite. It was wide open everywhere off the cliffs to the south. We caught and released several rock fish. My Chartreuse scampy was all bitten up, so I put on a LARGE bright red scampy plastic, dropped it to the bottom on my ghetto Penn Jig master/medium action spinning rod rig, and BAM! I got bit by something big. My drag starts to go out, and my spinning rod looks like it is going to snap, I was stoked. After several fierce runs directly straight down, I could finally see color, and a nice at least 6lb Ling cod came up. It nailed that big scampy first drop! Rastrev all the while is steadily catching nice rock fish. There were a couple of Pbers near by, and they had four Yellow Tail, off of blue, and white Irons. The sun was out, and the water was getting choppy, so we decided to head back the 3 mile paddle to where we launched. That night we had very delicious beer batter fish tacos.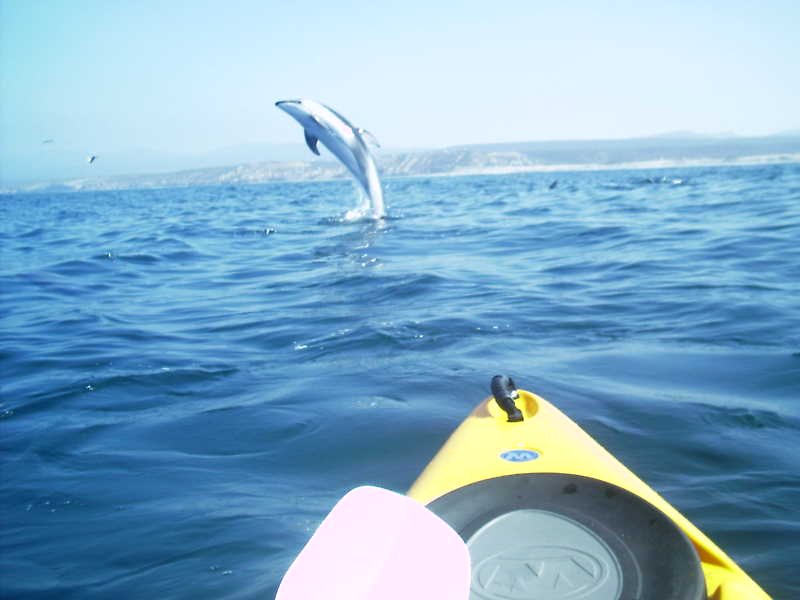 Sunday morning, we are very sore from our long paddle, but once more would like to find that seemingly elusive school of Yellow tail. So we paddle out at 7:00AM. The surf is pumping and at least at biggest 5ft sets (face) steadily. I am a little wary due to my pummeling from the day before. The surf knocks me off my kayak, but I have less cargo, and a light bulb went on inside my head, to sit on the inside of the surf, and pound through the white water, until the precise opening happens, and slowly inch my way forward. I see it, I race past my friend Adam who is surfing (he can duck dive!), like I am trying to get the Olympic gold medal in surf launching, my arms are very sore, I can see a big wall building from the outside, and moving very fast to the inside. It is starting to peak, when I greet it, I am now paddling as hard as I can, and my heart is pounding. As I am paddling up the wave, as Adam yells "your going to make it!" It was like the Perfect Storm, I made it, but barely. My bow flops down on the other side, and I continue to paddle, and make it through the next wave, and keep paddling until I am outside, and exhausted. My surf launching learning curve went through the roof on this trip alone. Rastrev once more makes his way out without being knocked off his Kayak (beginners Luck!). Again there are nice green macs all over. We bait up, and head straight out towards a large group of birds working the top of the water.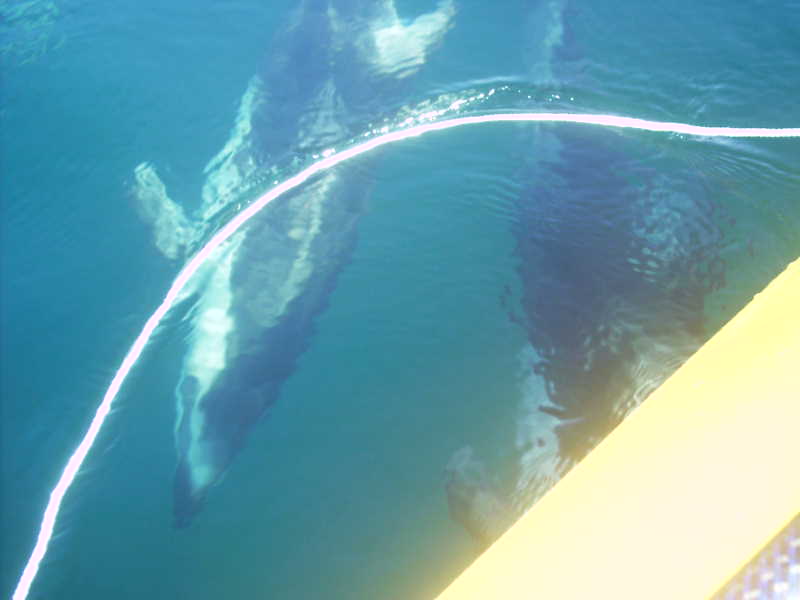 When we are within 100 yards of the working birds we notice that a pod of dolphins, jumping and working a bait ball with some Sea Lions. The Dolphins are going crazy and jumping, it was quite a show. Once we got within their feeding circle, our mackerels were stolen by Sea Lions. I dropped a scrambled egg Iron, but then several Dolphins began to swim directly under my Kayak, and jump all around. I put down my fishing rod, and just marveled at their beauty. I had a great day of fishing the day before, but I had never experienced anything like this. It was truly an eye opener to life and nature, and how lucky I am. So I guess at the risk of sounding corny, more than the fishing was wide open in Colonet Mexico.
Tight Lines Everybody,
Chris