Usually, with the bottom fish closures we are limited to bouncing and drifting for Halibut or fishing for Bass in the Winter. Normally I am looking for the big sandies to bring home this time of year to satisfy my craving for fresh fish. This Winter has been very different as the long absent Bonito arrived in the Fall and never left. Another phenomenon is the Winter Yellowtail, which have been showing at the Coronado Islands consistently for the past few years. Surprisingly they have been hanging around La Jolla since December. I was out one day in mid December and hooked up on a F/T, while dragging it under a ball of agitated Smelt. This very large fish took me around a kelp strand and quickly broke off. I, like most other fisherman am haunted by these monsters that are never seen and am always in a hurry to seek redemption. This time it only took my next trip out to find a replacement image of that big fish taking line only to end in a snap. I saw a very big fish roll on the surface 20 yards off one side of me and quickly tossed a Kicker Jig just beyond the still rippling water. Nothing on the 1st cast, so I casted a little further and let the jig settle a little deeper. Big fish on and this time the ending took place on the gaff and with an incredibly happy angler. This was my last Yellowtail for 2003.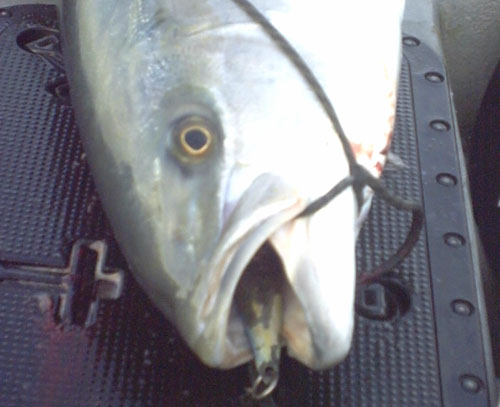 In January, the reports from most who put the time in on the water were filled with a very nice grade of Yellows averaging 20 pounds.These fish were generally caught very deep, while yoyoing an iron over deep structure. These spots are easily identified this time of year by the lobster buoys. I had already caught 2 Yellowtail this January, something that I have never done off La Jolla and was out looking for my third of the year.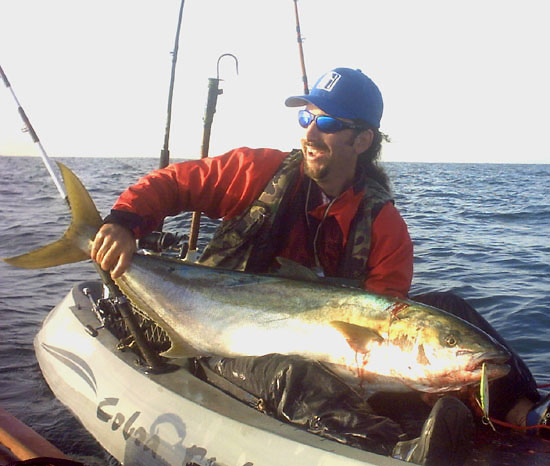 I paddled out with Vito just before 1st light. Got a face full of salty stuff from a 2 footer on the way out and the breeze was 6-8 from the SE. Lately I had been dead-sticking one jig, while yoyoing another. I had an Ironman #3 just off the bottom. Saw the rod tip bounce and holstered the yoyo rig and wound the dead-sticked iron on. BENDO, yelled over to Vito that I was on the right kind. I was pretty sure that it was a bigger model, as I could not feel the thump of its tail. Had me thinking big ol WSB so I played it with about 5 # of drag to avoid tearing the hook. 25 minutes later at deep color I thought that it was a WSB. The wind was pushing me from on top and this big Yellowtail head pops out of the water 10 feet off. Had his mouth wide open, trying to shake that jig loose. Had to skim him across the water for a gaff shot. Pulled him onboard. I had a death-grip on his tail and did not want to let go, so Vito came over and got a line on it. 7 AM, savored the moment and slowly made my way in. Decided that this one was worth making the trip to Fisherman's Landing to get an official weight. My biggest Yellowtail so far was 40# caught on a Green Mac in April 2002, off La Jolla. I thought this one looked close, but not quite. Ended up weighing 41#. This is also the 1st YT that I have ever caught in February.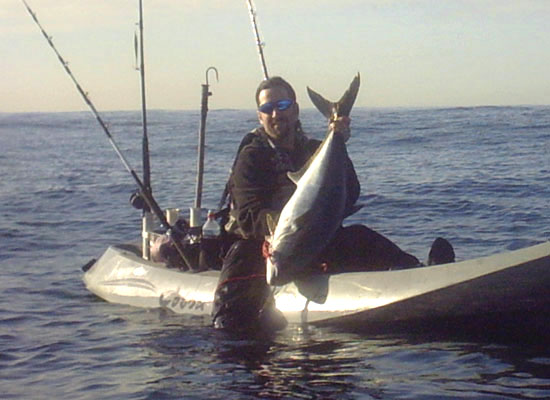 I was back out 3 days later, I think I hooked up around 6:45, same gun, different ammo (Ironman#3 scrambled egg). Same general area, north of the point, out around the lobster pots. I saw a big boil out of the corner of my eye and turning back, I thought it had to be a Porpoise to leave such a big footprint. There were a lot of Porpoise in the surf and canyon on my way out. So rather than throwing iron at it, I just dropped to the bottom and wound it up. About 50 feet off the bottom, just as I was about to freespool, it got hammered. Called a couple of others over, hoping to spread the joy, but nobody hooked up. This one weighed just over 32#, (full moon and still an empty belly at dawn) It was delicious served with roasted asparagus, some bowtie pasta and garlic bread. I love eating fish (almost) as much as catching them. On my way in I had a big Grey coming right down on me and stopped to give it the right of way, just icing on the cake.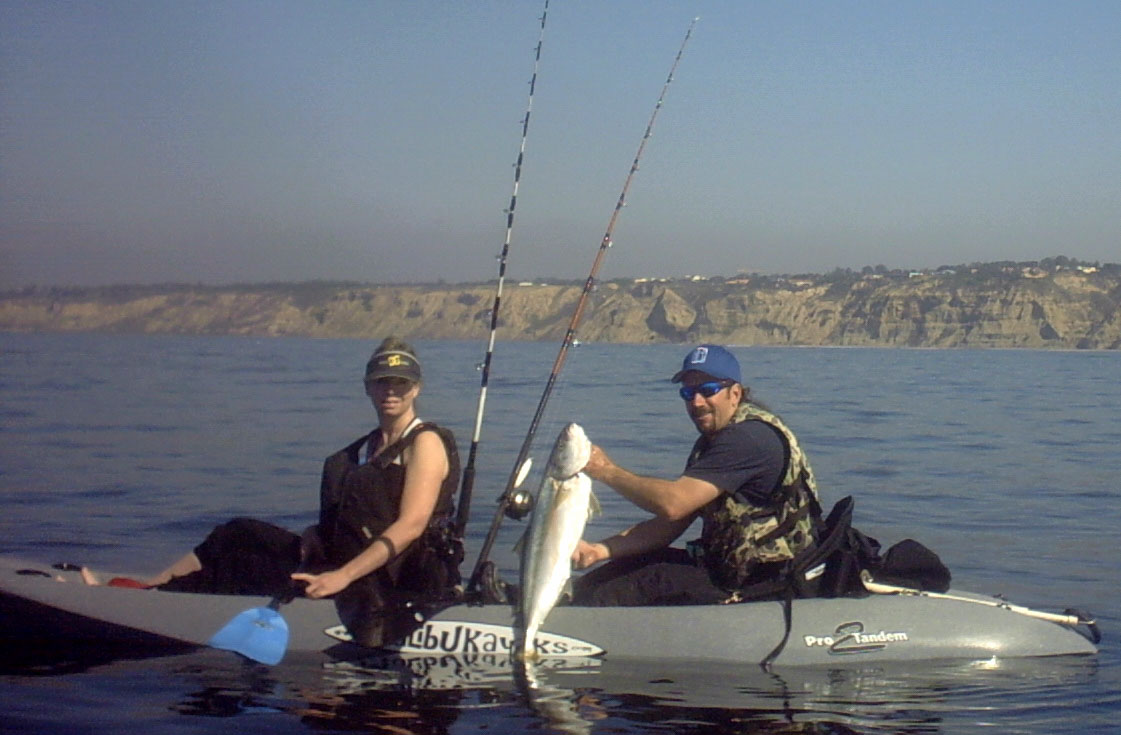 I am not one who believes that color is a factor on fish hooked at 100+ feet down. I think that the action of the jig and the action imparted by the fisherman is the key to calling in a deep Yellowtail and getting him to grab that chunk of metal. The rod is not as important as the reel. I have been using a Shimano Speedmaster and a Penn 505HS. Both of these reels have a 6 to 1 gear ratio allowing very fast retrieves.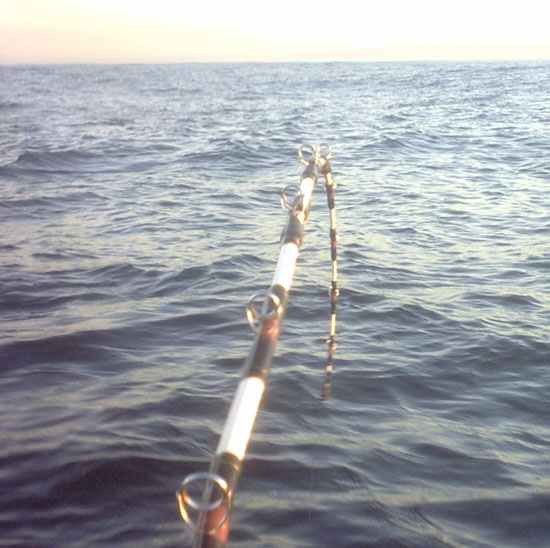 The process of dropping an iron and then winding it up again can become very monotonous. If you think of it like this it will keep you making just one more drop and grinding it up as fast as you can. On that first drop you might get him to turn around and head your way. on the second drop he is still trying to hone in on what his instincts tell him is prey that he is sensing with his lateral line. On the third drop he chases the iron awhile before giving up. This next drop, the fluttering iron sinking, mimics an easy meal and is quickly grabbed. On the surface, you wonder in a split second why your jig has stopped sinking well before the bottom. Then within that short time frame, realizing what has happened, you quickly put it in gear and wind on until the rod bends hard and line starts peeling. Fish on!