fight, a large kahala, or amberjack, came to color.
I brought the line to swivel and then handlined him in the rest of the way, which I really enjoyed. Amazing how much power you have over a fish with a 15 foot length of 400 pound mono. It feels great in your hands, at least when you have the fish's head turned towards you.
By the time I got him to me, he was exhausted, as was I. Having come up from such a depth, maybe 50 fathoms, or 300 feet, he was pretty much toast, as his swim bladder impeded his, uh, being alive. I had constructed a "stick of death" just for this occasion, made out of a PVC pipe stuffed with lead weights in one end and filled up with that hardening foam. It didn't last long, and proceeded to splinter in the air as I rained down head shots. I had a good time in the hardware store designing this instrument, but next time I will stick with the good old fashioned bat. Or a medieval mace or flail, if I can find one on the internet.
We spent the rest of the day trying to locate more bait and having the wahoo slash it clean in two. At one point we were trolling hoochies for the bait and we had a jethead lure out in the middle position, just in case something neato was around, and BOOM! It gets hit and something takes a lot of line out on it. Fred immediately knew it was a tuna, so I said, let's go! Either that or land it from the boat, and who wants to do that?
I set the hook better, they immediately put the yak in water, and handed me the rod. It reminded me of a passage in Tiny Bennett's classic book, The Art of Angling , when he wrote,
"The line peels off a smoking reel, until the angler
despairs of ever coming to grips with the fish ."
I was worried that, as in Puerto Vallarta, I would not be able to get up the tuna before he had wiggled the hook around in his mouth enough to make a bigger hole and dislodge it. But the difference was that this time I was ready with heavier tackle to bring the fish up quickly enough.
Soon I found my rhythm, where I would brace the rod against my knee, put the butt in my groin, and then pull back with my back to approximate the action of a fighting chair. I've tried using rod belts in the yak but they never seem to work for me. I've already had kids, and I consider bruises resulting from battle my little badge of courage, so I just plant it in the ol' groin.
It started to work well, but this tuna was not coming up more than a hard earned half crank at a time. However, you can put a lot of wood to a fish on 60 pound test. It felt like just the perfect setup, especially since I needed every edge I could get as the tuna fights completely vertically and negates the usual advantages we yakkers have over most other fish that swim around. This thing just went straight down, and dragged me in backwards circles, so that the rod kept being pulled backwards over my left side. Every so often, despite the reel being locked down, the fish would go on a screaming run straight down, pulling the rod smack down onto the edge of the yak as 20 yards of line screamed off the reel. I was in HEAVEN!!!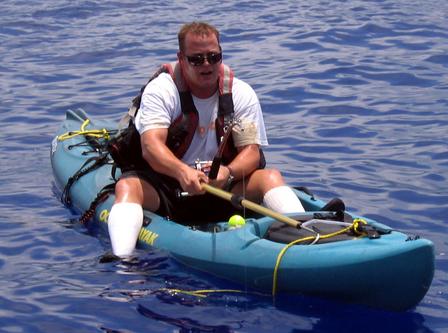 After maybe 45 minutes of hard work, I got a beautiful look at him, a very nice sized yellowfin, and he seemed suspended on his side below me in space as the water was so calm and clear. Fred and Bobby were totally psyched, too. Bobby even jumped into the water to try and get some underwater shots. This usually happens with guys that mothership me. In the morning they're full of questions and doubt, and by the end of the day, they think this is an interesting approach.